Full moon dates 2017 and moon phases calendar for 2017
If you often want to see the current moon phase, or you like the night sky screensavers you can download the StarMessage screensaver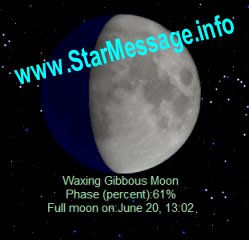 A
night sky screensaver
for Windows and Mac OS X is the
effortless
way to be reminded about today's moon phase: you will not need to do a google search or open a website or run an application.
The screensaver appears automatically when you do not use your computer and shows you the current moon phase.
It will also warn you about upcoming full moon dates and new moon dates.
Below is a table with the full moon calendar dates for 2017.
If you want to see the current moon phase visit tonight's actual moon phase and image of the moon.
2017
Full moon January
2017-01-12
11:34
Full moon February
2017-02-11
00:33
Full moon March
2017-03-12
14:54
Full moon April
2017-04-11
06:08
Full moon May
2017-05-10
21:42
Full moon June
2017-06-09
13:10
Full moon July
2017-07-09
04:06
Full moon August
2017-08-07
18:11
Full moon September
2017-09-06
07:03
Full moon October
2017-10-05
18:40
Full moon November
2017-11-04
05:23
Full moon December
2017-12-03
15:47
All dates and times are in UTC time.
Full moon calendar for 2017
You can see the full moon calendar for 2017 here.