Full moon dates 2017 and moon phases calendar for 2017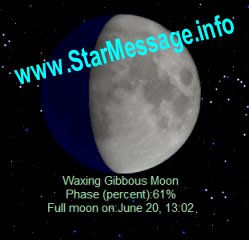 Our
moon screensaver
shows the moon in its current phase, notifies you about the upcoming new moon or full moon, and much more.
Runs on Windows and MacOS.
If you like the moon, you should see its screensaver.
Download the free edition and enjoy its many features.
Below is a table with the full moon calendar dates for 2017.
If you want to see the current moon phase visit tonight's actual moon phase and image of the moon.
2017
Full moon January
2017-01-12
11:34
Full moon February
2017-02-11
00:33
Full moon March
2017-03-12
14:54
Full moon April
2017-04-11
06:08
Full moon May
2017-05-10
21:42
Full moon June
2017-06-09
13:10
Full moon July
2017-07-09
04:06
Full moon August
2017-08-07
18:11
Full moon September
2017-09-06
07:03
Full moon October
2017-10-05
18:40
Full moon November
2017-11-04
05:23
Full moon December
2017-12-03
15:47
All dates and times are in UTC time.
Full moon calendar for 2017
You can see the full moon calendar for 2017 here.