Warning of posibly harmful downloaded software - How to deal with it?
False alarm or true threat?
If you receive a warning from your internet browser (Mozilla Firefox, Chrome, Safari, Microsoft Internet Explorer, Microsoft Edge) or by your antivirus software, you have to decide if this a "false positive" (false alarm) or a true threat.
If the warning message has the name of a specific virus, then you should probably not proceed. If the name of the virus contains the word "generic" then probably this is a guess from the antivirus program and is possibly a false positive. You should inform the publisher/creator of the software and ask for their advice.
How to bypass the warning "exe was blocked because it could harm your device" of Microsoft Edge
For example, when a user clicks on the Download button of our screensaver for Windows, the download starts and a warning might appear:
"starmessage-setup.exe was blocked because it could harm your device"
Microsoft Edge does not give any more arguments, why this file could harm the computer, and proposes to delete this file.

To keep the file, press the 3 dots and select "Keep".
How to bypass the warning "This app might harm your device" of Microsoft Defender SmartScreen
Going further, after you selected to keep the downloaded software app, Microsoft Defender SmartScreen comes on and might throw the message "This app might harm your device".
The reason for this warning is that the app is not commonly downloaded or is not signed by its publisher. (In our case, we sign our Screensaver since the 5.9.3 version).
So, there is something wrong with the contents of the file itself. The warning is issued only because SmartScreen has not statistically seen many downloads of it. This is a hit to the small, independent developers.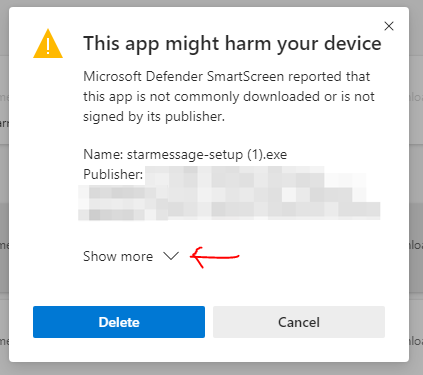 To bypass the message, click on "Show more".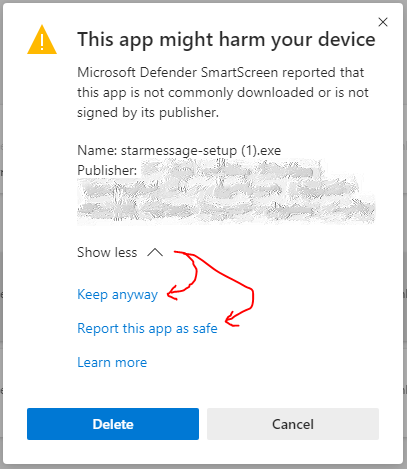 If you trust and want to help the maker of the software, you can report the app as safe. If enough users do that, the warning will eventually be removed.
Select "Keep anyway" to dismiss this warning.
Finally, the software application download will be available under your Microsoft Edge downloads.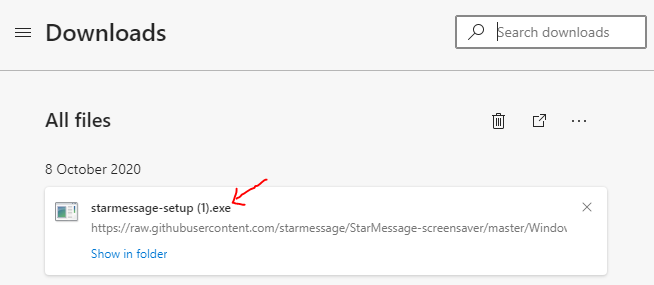 Click on the name of the download to install the software.