StarReminder - Tasks reminding utility
This is the standard download that will allow you to setup StarReminder on your PC and start it automatically with Windows.
The portable version is a zip file that does not need installation. Suitable for computers where you do not have administration permissions.
for only $9.95
StarReminder gives you reminders and alerts for specific dates and times.
With the advanced (but easy to use) scheduling options you can setup recurring reminders (hourly, daily, weekly, monthly, yearly, etc.).
You can add on-screen notifications, e-mail delivered reminders and sound alerts.
You can even make StarReminder to automatically perform computer tasks for you, for example, to run a program and log off, shutdown or restart Windows on specific days or times.
If you travel a lot or use computers both at home and work, you can take StarReminder with you. We have made StarReminder able to install on a flash USB disk so that you can take it with you and run it on any computer that you visit.
Some screenshots: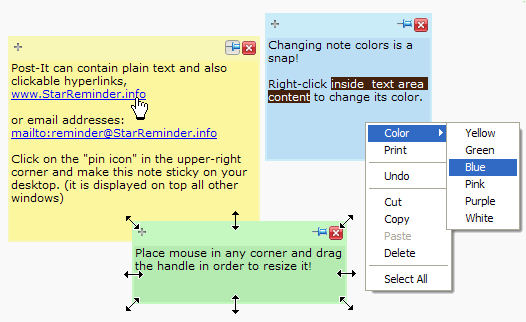 Stick "post it" notes on your computer desktop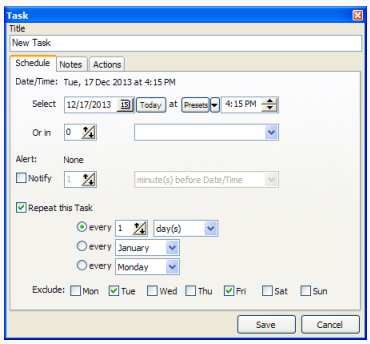 Task scheduling options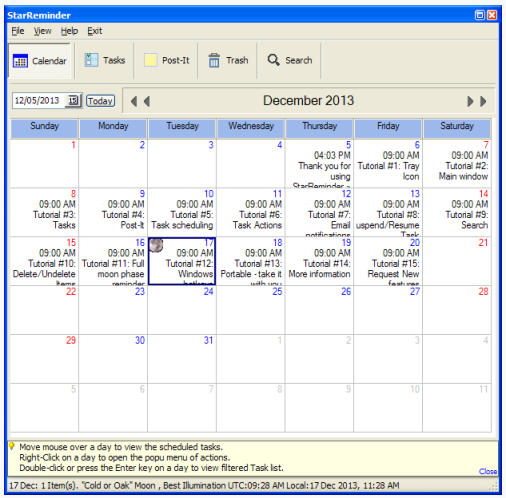 Calendar view of the task list and the upcoming alerts
Features:
Portable - take it with you

StarReminder is designed to be a Portable software. Always carry your reminders in your pocket by simply installing it on any normal USB disk and view your Tasks, todos, anniversaries and notes in any computer, anytime.

Works without bothering you

StarReminder runs on the background, without interfering with your work until a Task reaches its due Date/Time schedule that you have previously set. You can access any of StarReminder's functions by clicking or right-clicking on its tray icon.

Task Management

Tasks can be setup on a predefined Date/Time along with various recurring scheduling options. Unlimited plain text can be stored on a Task's Notes which supports URL highlighting. Manage Tasks using a Calendar or a Task list. One or multiple actions can be assigned like: play a sound, send an email notification, run a program or even shutdown the computer./dd>

Popup Notifications

A window popups on screen when a Task (or a number of Tasks) reaches its due Date/Time. The window contains a list displaying Tasks Title and Date/Time schedule. Extensive Task handling is available adding functionality and speed to your work.

Email notifications

You can configure StarReminder to send email notifications when a Task reaches its due Date/Time. For example you or a friend of yours can receive email notifications for a meeting you planned. With the email notification it is easy to organise also other people that do not have StarReminder installed.

Full moon phase reminder

If the moon cycles are important for you, an email notification can be sent three days before each full moon of each month. The email contains the full moon name and detailed description for each month's full moon phase along with the best illumination in UTC time.

Post-It notes

Get rid of paper floating around your desk. These virtual post-it notes are as easy to use as paper and far more flexible. They can store unlimited plain text content and they can be placed to your Windows' desktop or in the Post-it memoboard tab. They don't disturb you when using other programs. You can easily drag them anywhere in your desktop or roll them up in order to save screen space. Changing note colors is a snap. If you travel and use StarReminder on a USB stick, the post it notes will follow you in your trip.

Memo Notes

Use the Post-It tab to create and edit memo notes. Instead of leaving a Post-It open on screen you can close it and find it in the Post-It tab in the main window. You can store unlimited text and automatically highlights any URL addresses to websites. You can colot-code the memo notes to filter them by color and distinguish their content.