StarMessage Screensaver
StarMessage Moon Phase Screensaver
Features
StarMessage is a "moon and stars screensaver" for Windows and Apple MacOS, showing a realistic presentation of the night sky, with the moon in its actual phase (some believe it's a by-product of the "big bang").
You can write your name or your messages (such as your wishes or love messages) using the stars of the night sky.
Keep on reading to discover its many features or just install the free edition and see it for yourself. StarMessage is a small screensaver that can be easily installed or uninstalled. You can have it installed and running at your computer in less than a minute.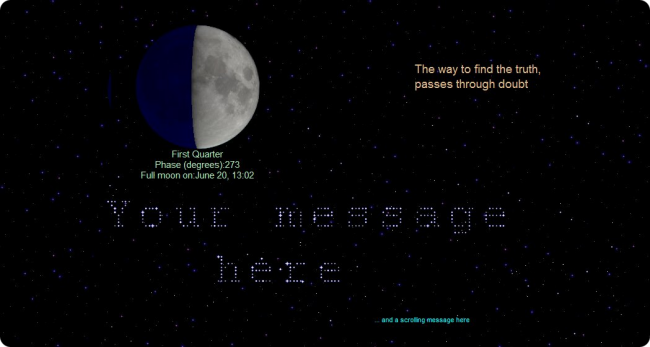 (click on the image to enlarge)
Who is this screensaver for?
People who are interested in the moon phases

Hunters, fishermen, farmers, who want to hunt/fish/plant by the moon phases.
Groups who plan their activities by the moon phases, e.g. full moon parties, new moon gatherings, etc.

People in love

can write their love messages in the stars of the night sky.

Stargazers

who can instantly see the night sky and the exact moon phase during the day or during cloudy nights. They will also be reminded of upcoming moon phases.

Couples

who share the same computer and can leave lovely messages to each other.

Grandparents

can leave inspiring messages or advice for their grandchildren.

Owners of public computers

can write promotional messages on the computer screens of on wall projectors.

Astrologers

can write messages in the stars to remind their customers that they "read" the stars for them.

Kids interested in astronomy

who are fascinated by the sky or just want to see a serene scene before going to bed.
A screensaver with unique features that is like many screensavers together.
Windows and MacOS Moon phase screensaver

See an image of the moon at its current moon phase, together with the name of the moon phase, the percentage of moon illuminated and the recent or upcoming dates of full moons and new moons.

MAC OS X: Moon settings and moon information.

Romantic messages screen saver

The stars of the night sky will move around to write your romantic messages. Will surely impress the reader of your messages. No other screen saver can do this!

MAC OS X: Write your messages in the stars.

Shooting stars can make your wish come true

StarMessage can do anything for you: It contains shooting stars (falling stars) to help you make your wishes come true.
You must be fast enough to make your wish when you'll see a shooting star.
You can also write your wish in the stars. StarMessage will remind you of your wish everyday. Some groups of people believe that this way your unconscious mind will start working silently to make your wish come true.
Just make sure that you are wishing for good/positive things and you understand all the consequences of your wishes. Your wisdom must be greater than your desire when you make a wish.

Moving stars / StarField screen saver

If you liked the classic moving stars screensavers or the star field space screensavers, you should definitely try StarMessage.

See a recorded video of this moon screensaver and the movement of the stars.
You can go to the YouTube link to see it in bigger size.
And please don't forger to up-vote or share it if you like it.

Famous quotes screensaver

StarMessage shows inspiring and motivating quotes about love, wisdom, humor, peace, global world matters.
You can add your own quotes and messages (Apple MAC OSX version only).
Or you can send your own quotes to me, and if qualified, will be included in the next versions of the screensaver for all users to see, reaching a wider audience.

MAC OS X: Read famous quotes or import your own quotes.

Sounds of nature screensaver (sounds of birds, sounds of ocean waves, etc.), including a cuckoo-clock sound

Let this serene screensaver calm and relax you or even put you to sleep, with tender sounds of ocean waves, birds, lullabies and sleep reminders.

MAC OS X: Sound settings

Rooster screensaver/cuckoo clock screensaver

You can use the screensaver as the old cuckoo clocks. Every hour you can hear a cuckoo sound while in the morning hours you will hear a rooster trying to wake you up.

A selection of night sky background wallpapers


MAC OS X: Select the night sky background that matches better the room's light conditions.

Multiple monitor screensaver

(Apple MAC OSX and Windows 4.xx versions only)
If your computer has more than one monitor/screen and you are looking for a screensaver running on multiple monitors, this screensaver will cover your needs.

Hot corners: prevent the screensaver from starting.

In some cases you might want to easily prevent the screensaver from starting, e.g. if you are watching a video.
MacOS has a feature called "hot corners" where you can park the mouse on one of the 4 screen corners and the screensaver will start or will be disabled from starting automatically after the timeout.
For Windows, StarMessage has implemented this feature in its configuration screen.

Prevent the computer from going to idle (sleep) mode.

(Apple MAC OSX and Windows 5+ versions only)
If your computer is left to complete a lengthy operation, like downloading a big file, the computer might automatically enter an inactivity state and disrupt your operation. You can use the "power" settings of the screensaver to keep your computer "awake" for the next two or eight hours.
You can also use the power settings to keep the screensaver running (without the monitor being switched off) so you can see the night sky before you go to sleep.

MAC OS X: Power configuration. Keep MAC awake for the next hours. Prevent the MAC from going to idle state.

Animated wallpaper

(Mac Apple store version only)
The Mac Apple store version of the screen saver can work as an animated wallpaper showing the moon, the stars and your messages behind your desktop icons.
More screenshots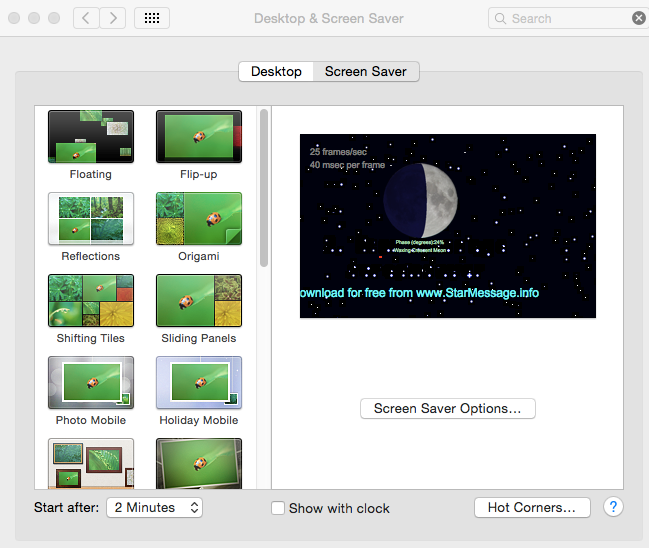 MacOS: Screen saver panel. How to configure the screen saver.