SoftMeter - Application analytics for Windows, MacOS, IOS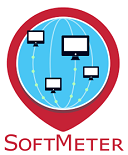 With SoftMeter you can see beyond the download
SoftMeter brings run-time statistics (also known as usage analytics, or app analytics) to your desktop shareware software or IOS app, in an easy, quick, and free way.
In less than a day, with only a small additional file, you can start "listening" to your software's "heartbeat".
With SoftMeter you can measure your user base, understand what matters most to them, spot problems, and optimise your software.
SoftMeter is called from your application and sends the usage data to Google Analytics. You can then simply log in to your Google Analytics account to monitor the usage of your software, even in real-time.
Operating systems compatibility
Windows (XP and later)
Apple MacOS
Apple IOS
SoftMeter answers questions like:
How many active users are running my software?
How many new users do I have per month?
How many users uninstall it per month?
In which countries are the most of my users?
What is the default language on their computer?
Which operating systems and versions do the users have?
What screen resolutions do they have?
Which are the most and least used features of my program?
What percentage of the free users become paying customers?
Do users upgrade or they stay with old versions of my software?
Do I give too many features in the free version?
Are the features of the paid version not enough to justify the purchase cost?
What are the conversion percentages? (Downloads -> Installs -> Users of free edition -> Paid active users)
Is there an operating system version where my software has many uninstalls? (an indication of a bug)
Are there run-time errors during the setup or when my program runs?
Softmeter can be included in:
Who is it for?
Shareware developers, desktop and IOS application developers, independent software developers who distribute their programs via the internet and what to know what happens to their application after the download.
Why is the application usage information needed?
With the application's usage information, developers can shape their software product to better match the expectations and desired usage by the customers.
By analysing the usage patterns developers can deliver more value to the customers by focusing on what is important for them.
Benefits of SoftMeter:
Small library.
Free or very low cost.
3 licenses: Free, Pro subscription, Pro perpetual (coming soon).
Real-time reports.
Historical reports with long data retention period.
Easy integration with your software. Ready source code examples help you include the library in your software.
Easy integration with your setup package: Ready source code examples help you include the library in Inno Setup as 3rd party extension, and Installaware.
No need to sign-up with SoftMeter; you only need your existing Google Analytics account.
Detailed checklist to guide you through.