SoftMeter - Usage analytics for desktop software (Windows, MacOS X)

SoftMeter (former libAppTelemetry) shows you how users around the world use your desktop application, how many they are, how often they run it, which are the most popular features, and much more.
If you do not know what usage analytics are, or you do not know why you must include them in your software, read this article.
SoftMeter is build to bring run-time statistics to your software, in an easy, quick, and free way. With SoftMeteryou will stop guessing what users do with your software. You can understand what matters to them the most, spot problems and bugs and optimise your software.
You can include our library in:
your software application (to see detailed usage stats of your software's features),
in your setup package (to see installation and removal statistics), or
in both your setup and your software (for maximum insights)
Who is it for:
"No relationship can survive without effective and honest communication, and the special relationship that exists between you [the software developer] and your users is no exception.
Yet development organizations too rarely exploit the most immediate communication tool at their disposal: their application."
Read about the benefits of application statistics on this article of Sebastian Holst.
Shareware developers, desktop application developers, independent software developers who distribute their programs via the internet and what to know how many users have installed their software, what is the percentage of the free vs the paying users, which application features are used the most. With this information, they can shape their product to better match the expectations and the preferred usage by their customer. This critical information can help the developers deliver more value to the customers by focusing on what is important for them.
Why SoftMeter:
On IOS and Android, there are native ways to monitor your app's usage via the iTunesConnect account or the Google Developer account.
But for Windows and Mac OS X there are only a few (and costly for the independent developers) systems to get runtime statistics of your programs.
SoftMeter is designed to be a low-cost solution for the independent developers who cannot afford the expensive alternative platforms. Our library uses Google Analytics as a reporting platform, thus minimising the cost while keeping a high reliability and availability. It works in a similar way as the Google tracking javascript code that we put on our websites to track them with Google Analytics.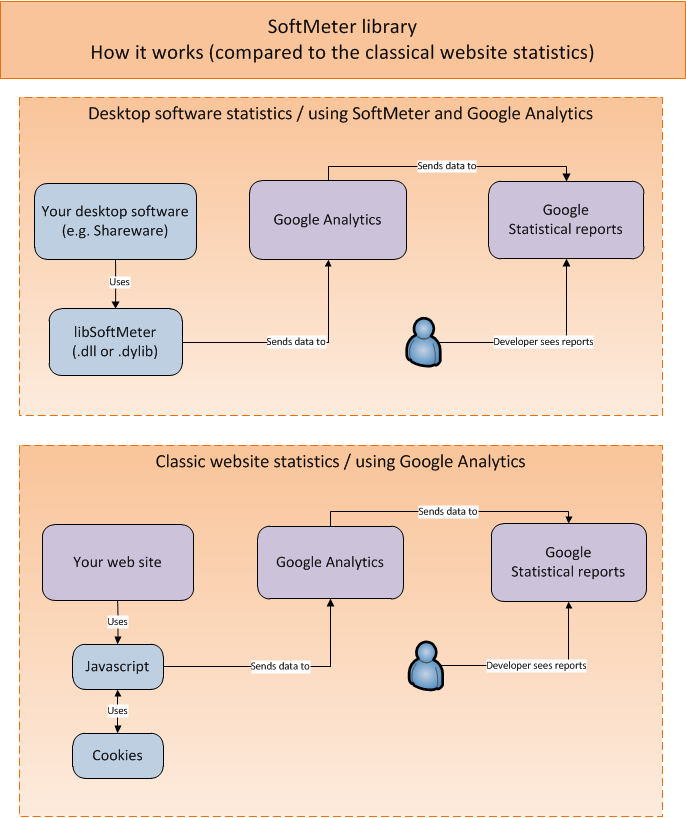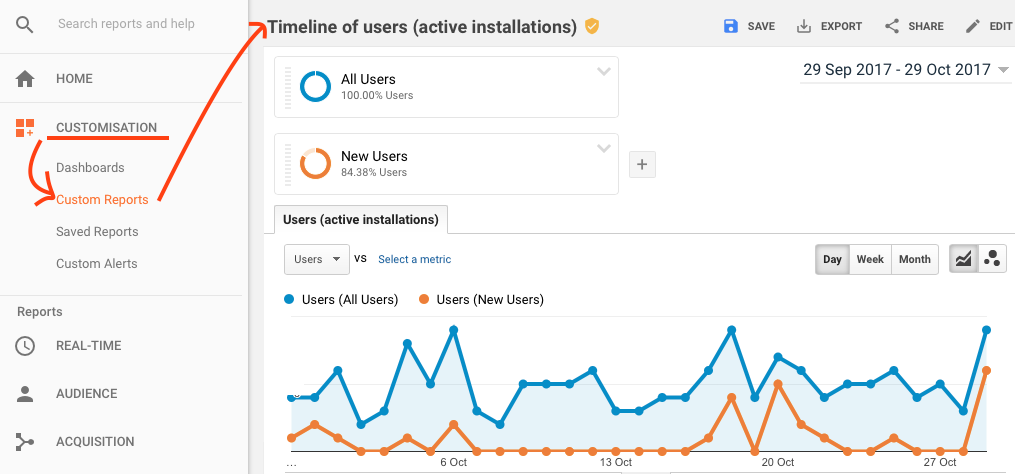 Pricing:
Versions up to 1.0 will be free.
Version after 1.0 might have a small fee. The fee will be so small that it would be easily affordable by independent software developers that make little or even no income from their software.
Features:
Cross-platform (Mac + Windows)
Small footprint, less than 400 Kb
Simple API; easy linking with your Mac/Windows desktop software
Free.
No sign-up needed to download the library and start testing it
You can rename the filename of the library (.dll or .dylib) to a filename that matches your application's name
Inno Setup compatible: monitor the installations and uninstalls of your software
Monitoring and reporting application crashes and application exceptions.
Our software analytics library is built with C++ so that is easily portable to different operating systems (cross-platform feature). It uses the native OS connectivity structures, e.g. winhttp, NSURLConnection, etc to achieve a small footprint, OS compatibility, and optimised performance. While is it developed in C++, it can be used by any program that can call a .dll library (Windows) or a .dylib library (MacOS X).
Examples on how to use it with InnoSetup so that Setup and Uninstall statistics of your shareware software are automatically recorded in your Google Analytics property.
Benefits:
See detailed usage statistics for your software. How many free vs paying users you have, from which countries, which operating systems, etc.
Easy preparation of your Google Analytics property: Precompiled command line programs let you test in your Google Analytics profile.
Easy intergration with your software: Script examples to include the library in your software.
Easy intergration with your setup package: Script examples to include the library in Inno Setup as 3rd party extension (so you will have detailed statistics about the installations and the uninstalls of your program).
No need to create any extra account to start using the library; you only need your existing Google Analytics account.
Google Analytics is the reporting/analytics platform
Free
Reliable
You most probably already know it and use it to monitor your website
Statistical figures:
number of active users now
daily/monthly number of active users
number of unique installations
new users vs returning users
new installations per day/month
average number of windows/forms that the users open
average usage time
the preferred language on the user's computer
screen resolution
countries
OS versions
OS 32/64 bit
Screen views of your program and users path, e.g.
main screen -> address book -> create new contact
main screen -> configuration -> main screen -> (exiting)
custom events sent from your program
Versions of your application
See some screenshots of reporting examples here.
Known technical limitations:
Currently, the library does not cache the statistics in case there is no internet connectivity. It first checks for internet connectivity before attempting to post the statistics to your Google Analytics account.
Artwork credits
| | |
| --- | --- |
| | Icon designed by Eucalyp from Flaticon |