StarMessage software Partners, Resellers, Affiliates
You can easily and effortlessly advertise and resell StarMessage software from your website, blog, Facebook, or even your email footer by posting your affiliate link.
You can get your affiliate link from our payment processor, "PayPro Global".
---

PayPro Global is specialized in the processing of payments for software products.
PayPro Global uses the highest available level of SSL encryption to offer secure online transactions and credit card processing.
PayPro Global offers maybe the biggest variety of payment options for the buyers and a big variety of fund withdrawal options for the affiliates.
PAD XML files for websites that can import PAD files
SoftMeter - View your shareware usage statistics in Google Analytics
---
---
---
CrcCheckCopy - Folder comparison by CRC (free software)
---
libSharewareCpp - cross platform C++ shareware registration library
---
cpcc - cross platform C++ classes
---
Discontinued software
Our affiliate program allows you to advertise our software on the internet and earn 30% NET sales commissions. Monthly payments will automatically be sent to your PayPal, bank account or postal address as $US or Euro cheques.
It is very simple. You need to put a special link address (your affiliate link address) and write a small intro text describing the benefits of our software. When a visitor of your website clicks on this link he/she is transferred in the StarMessage online shop and if he/she makes a purchase, your commission is automatically recorded by the system. By the end of the month, all commissions are summed and sent to you
No extra work or worries. All customer care, technical support and correspondence are taken care from StarMessage. You just need to place the advertisements and wait for the monthly payments.
Affiliate accounts are available through the PayPro Global affiliate service. Signing-up and using this service is free.
Frequent questions about the StarMessage affiliate program
How do I start as an affiliate of your software?
Register as a StarMessage software affiliate in PayPro Affiliate System using this link.
Review StarMessage software affiliate campaign details (enrolled products and markets).
Get approved by the StarMessage software (Affiliation agreement activation).
Download all the product media found in your Affiliation Agreement together with the redirect link for potential customers.
Place a display ad (banner) or a contextual promo on your website or blog.
Get monthly payouts according to your affiliation agreement.
And you are good to go! PayPro takes care of the rest!
What are the benefits of the affiliate program?
Easy setup of the system.
No maintenance needed.
Order processing, fraud management and customer support are handled for you.
Monitor and analyse your referral sales in reports.
Receive scheduled payouts by any suitable payment method.
Who provides the technical support to end-users who purchase the software via the Affiliate programs?
Technical support is provided by StarMessage software directly.
How are the affiliate payments handled?
All affiliate sales are tracked using the services of PayPro Global affiliate network. You will get a personal account through which you will be able to control all activities.
This account will also show you the balances of your commissions and how much is owed to you. You also choose how you get paid: a big variety of payment options exist.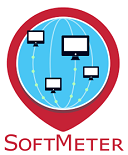 Google Analytics for your desktop software.
For Windows, MacOS and IOS.
| | | | |
| --- | --- | --- | --- |
|   | Price | Commission | You earn |
| PRO subscription | $119 | 30% | $35 |
| PRO perpetual | $995 | 30% | $298 |

StarMessage
The moon phases screensaver.
For Windows and MacOS.
| | | | |
| --- | --- | --- | --- |
|   | Price | Commission | You earn |
| Full version | $9.95 | 30% | $2.98 |