VersionUpdater

the free trial.
The sample configuration file contains the parameters that you need to define.
for only $59.00
We use MyCommerce as our payment processor for secure online and offline payments.
A great tool for software developers. VersionUpdater is a redistributable software utility that enables your own application to upgrade over the internet, with the minimum of user intervention.
Here is how it works:
The user is notified that a new version exists, and presses a button to start the upgrade of the installed program.
The user is asked to exit your application, in order for the upgrade to continue.
VersionUpdater downloads a zip file from your webserver and unzips all ZIP contents to a predefined folder (your application folder).
The user can run the new version that was just downloaded and installed.
Great addition to your programs.!
It is not only more user friendly to your users but also you gain valuable development time, since you will not need to create new installation / setup program each time you have a new version. Simple add the updated files in a zip, upload the zip to your web server. The new files will be installed to your clients.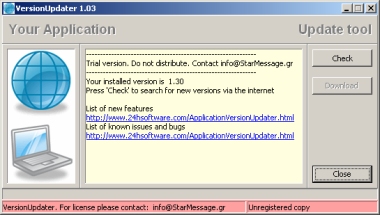 Features:
Multilingual. Language support via an external INI file. You can translate it in your language yourself
Supports product variations. You can easily upgrade different versions of your program (e.g. basic version and PRO version)
No scripting needed
You can stop creating and packaging Setup installations. You simply zip your application's new files and upload them on the webserver
Benefits:
Convenience for your users:
Your users are not bothered anymore to download the newer version of your application and install it over the previous one. They do not have to worry about:
1) whether a new version exists
2) whether they should uninstall the previous version first
3) whether they should use a new installation folder
4) whether a manual mistake during the new version setup will cause loss of their previous data
Your application looks more professional
Very easy to implement into your application. You don't have to fight with Windows Installer to update your program's setup files
Ideal for shareware products
Help guides: