SoftMeter v0.9.4 released - Get free software usage analytics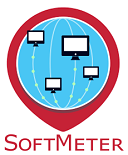 Version 0.9.4
Custom endpoints for the collection of the usage analytics data.
You can set your own server as the data collection endpoint.
SoftMeter will send the data hits to your server instead of Google Analytics.
Contact us for more information.
Improved compatibility with Windows 7.
Due to our programming excitement, we did not announce v0.9.3 on the website so here it is:
Version 0.9.3
Multiple monitor configurations and retina displays.
Detects and reports the number of monitors and their resolutions.
It also detects if there is a retina (high resolution / HiDPI) display on Mac platforms.
Until now, only the main monitor
new function setProxy()
It will set the proxy server for Softmeter. The address is without protocol (http, https).
The function will set both an https and http proxy server address.
You can read more on our application analytics GitHub changelog, or "watch" our repo so you will get the most frequent updates.
Please download the latest version and include it in your next release. of a multi-monitor configuration was reported.
Please don't forget to send us your ideas for improvements.
You can subscribe to our application analytics newsletter to conveniently get these and other important announcement in your inbox.