The StarMessage diary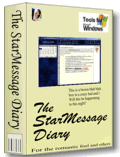 The panorama of your life.
Every day is bringing beautiful new emotions! Keep your thoughts and feelings forever inside your personal diary.
Please note: the StarMessage diary is discontinued.
No support is offered.
Existing users can download the setup file of the diary software from here
For support, contact the developer by email: giannis.sampas (at) yahoo.gr
The StarMessage diary software is an excellent way to keep a personal journal of day to day thoughts, feelings, memories, dreams, ideas and important events of your life.
The program looks like a real personal diary so you can start using it right away. You can write entries for the present, past, or even the future.
You can use it as a planner or a calendar by leaving notes to yourself to remind you of things you have to do. You can even copy-paste information from any other windows application.
If you really like keeping a personal diary, the StarMessage diary will allow you to concentrate on the pleasure of writing, away from the care for securing your writings from other's eyes, preserving them in good condition for the years to come, avoiding accidental damages or a complete loss.
Please note that if you forget your password, there is technically no way for us (or anyone else) to find it for you.
So either:
(1) make sure you write somewhere your password or
(2) use the diary with a blank password (no password) if you consider its data not confidential (e.g. you write stories that you wish to share with everyone).
You can download the trial version and "test drive" it for as a long as you want. It will not expire.
You can buy your diary installation license directly from the developer (Carbon People) using the following links.
If you have already bought one license and you want an additional license for your 2nd computer:
Normal price: $USD 16.95
Discount %40: $USD 9.95
If you are satistied with it and want to keep it, you must buy your license:
Normal price: $USD 16.95
Discount 25%: $USD 12.95
Features:
Easy to use

Special care was taken to avoid overpopulated menus that cause confusion to the user. An optimized program interface was designed to let you easily access the options you really care about. You can start using the program immediately after installation.

Diary protected with password

Security and privacy
Be sure your secrets will remain Secret! The StarMessage Diary stores your personal entries in a single, compressed and encrypted diary file. If a user does not know the password you used for your diary, he will not be able to open it. The StarMessage Diary uses a variation of the blowfish state-of-the-art encryption algorithm.
However, please make sure you do not lose your password; You will not be able to open this diary file again! Neither we can help you in that case.

Birthday and anniversary reminder

We have added a birthday and anniversary reminder, so that each day in the diary, reminds you about the important events of that date.

A separate diary for everyone in your family

Multiple users can use the StarMessage Diary on a single computer to keep their own personal diary. Each diary is stored in a different diary file, so that there no chance of accidentally having mixed entries from different diaries. The program can facilitate an unlimited number of diaries, so everyone in your family/office can have his or her own personal diary.

Your family history for your grand children

As well as writing your personal stories in a diary, you can also write your family history.

Simple Installation / Removal

The software is distributed in a single installation executable with complete installation and removal support. If for any reason you wish to uninstall the diary, you can do that easily without leaving any files in your computer.

Internet connection is NOT required to use the diary program

The StarMessage diary is a standard windows program and operates solely on your computer. You will not need web access or internet connection to write your diary.

Exporting

Export any or all of your diary entries in Rich Text Format (RTF) for use in other word processing or Windows programs.

Safely store private or sensitive personal information

Thanks to our "blowfish" encryption no one can open the diary file if he does not know the password.
You can safely store inside the file other personal information like medical records, bank accounts, credit card numbers, PIN codes.
Even if you use the USB version of the diary and your USB flash drive is stolen or lost, no one can get to your data.

Benefits of the StarMessage Diary

Preserve your thoughts forever.
Writing your thoughts in the StarMessage Diary is a very effective way to preserve them for the decades to come. Your grand children will find fascinating to read the original stories of their grandparents.

Backups / restores

The StarMessage Diary features a built-in backup and restore facility, and always maintains one backup of your diary. Benefit over traditional diaries, of which you do not have any backup solution to prevent a loss.

Take it with you

The USB enabled version of the StarMessage Diary, make the diary portable. You can use your USB stick to take the diary with you and use it on any other computer. No data are left behind. You can be sure that all your private data are carried only inside the USB stick.
With the unreversable encryption, even if you loose the USB drive, your data cannot be viewed by anyone that finds the lost USB drive.

Benefits over online diaries

The StarMessage Diary has very important benefits over the online diaries. An online diary cannot guaranty the privacy of your personal data. You can never be sure that the company offering the service will always be in business in the years to come. If it is sold, you will not know what will happen to your data. What if a disatisfied employee decides to copy your private data? Also your data might be completely lost after a hacker attack to the online server.
On the other hand, the StarMessage Diary stores your data locally, so they cannot get into unknown hands. The state of the art encryption protects them from non authorized eyes. Since the program stays in your computer you are not affected by any change in the company that created the software.

Save time

Review your past entries easily! The journal makes reviewing your previous entries as simple as looking at a calendar. Check out yesterday, or skim to last month, or see an entry from years ago with no more effort than a mouse click or a keystroke. Use it as a planner
You can use the diary also as a planner for your future tasks. You can Plan days in the future....
Leave "future notes" to yourself! The StarMessage diary allows an entry to be placed on any date: past, present or future!