Microsoft store
As a software developer, do you know which feature of your software your users appreciate the most?
We developed SofMeter, the free in-app analytics tool, to answer questions like that.
With SoftMeter you will see how the users are using your software, discover which features are used the most or least, and understand where you should focus your development efforts to maximize your sales.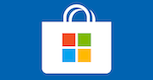 Microsoft Store (formerly known as Windows Store) is a digital distribution platform owned by Microsoft.
With Windows 10, Microsoft merged its other distribution platforms (Windows Marketplace, Windows Phone Store, Xbox Music, Xbox Video, Xbox Store, and a web storefront also known as "Microsoft Store") into Microsoft Store, making it a unified distribution point for apps, console games, digital music, and digital videos.
Fees:
30%
20% after the first 25'000 USD
$19 one time fee, for an Individual developer
$99 one time fee, for a company
Disadvantages:
Does not accept all types of Windows applications (e.g. does not support classic desktop applications)
Compare and review alternative payment solutions and e-commerce provider platforms