Stripe
As a software developer, do you know which feature of your software your users appreciate the most?
We developed SofMeter, the free in-app analytics tool, to answer questions like that.
With SoftMeter you will see how the users are using your software, discover which features are used the most or least, and understand where you should focus your development efforts to maximize your sales.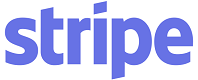 Online payment processing for internet businesses.
Stripe is a suite of payment APIs that powers commerce for online businesses of all sizes, including fraud prevention, and subscription management. Use Stripe's payment platform to accept and process payments online for easy-to-use commerce solutions.
Fees:
1.4% + €0.25 for European cards
2.9% + €0.25 for non-European cards
Chargeback Protection +0.4%
€0.03 per 3D Secure attempt
Advantages:
Developers mention the Stripe API as the best in its class.
Disadvantages:
Not specialized in Software sales.
Does not have an affiliate network.
You are responsible for creating proper invoices and charging (and deducting) VAT in countries that charge it, including about all EU countries — which also charge varying VAT rates per country. (See "Merchant of record" providers that solve this problem).
Compare and review alternative payment solutions and e-commerce provider platforms