SoftMeter analytics reports and dashboards
If you have already implemented SoftMeter in your software, you can view the pre-configured SoftMeter reports.
SoftMeter uses Google Analytics as its reporting platform. This design choice brings some immediate benefits for you:
Provides both historical and real-time reports.
Reliable and high availability platform.
Free: you do not have to pay for platform maintenance costs.
A platform that you probably already know, if you are using it to monitor the usage statistics of your website.
2020 news: SoftMeter also supports Matomo/Piwik as a reporting platform.
Statistical figures provided:
number of active users (real-time, up to 30 minutes back)
daily/monthly/yearly number of existing users and new users
the average number of windows/forms that users open
average usage time
the preferred language on the user's computer
countries
screen resolution
OS versions, and architecture (32/64 bit)
Users' path in the application, e.g.
main screen -> address book -> create new contact
main screen -> configuration -> main screen -> Exit
custom events sent from your program
application crashes
versions of your application
See some screenshots of reporting examples here.
Multiple reporting options
With SoftMeter and Google Analytics there are multiple options to get your reports. You can use the ones that fit best to your needs.
1. Out of the box:
You can use the ready reports of Google Analytics as they are organised on the left menu of the platform.
2. Custom reports:
You can create your own custom reports or dashboards to fine-tune the key metrics that are important for the monitoring of your software.
3. Import ready templates:
You can import SoftMeter's dashboards and report templates from the GA solutions gallery. (See below)
4. Ready pre-configured reports

(New)

:
We are building pre-configured usage analytics reports (beta) that you can use immediately to observe critical metrics of the usage of your software. Just log-in to your GA account and the reports will be populated with your software's usage analytics data. Read our announcement.
5. Build your own usage statistics reports in excel (or other spreadsheet programs):
You can use these excel add-ons that connect to your GA account and import the statistical data directly into your spreadsheet. You can then do your own combinations of data and make you own custom graphs and reports.
6. Collect the usage data directly on your own server

(New)

:
Since SoftMeter v0.9.4, we added support for custom endpoints for the collection of the usage analytics data. You can set your own server as the data collection endpoint. SoftMeter will send the data hits from your software directly to your server instead of Google Analytics. Then, you have full flexibility to process them in the way you want. Contact us for more information.
7. Matomo (Piwik) data collection and reporting

(upcoming)

:
A Matomo connector is being developed. If you do not wish your application data to pass through Google Analytics, you can send your software's usage data to your own installation of Matomo (aka Piwik), an opensource analytics software.
8. Reports via Google Data Studio
You can connect your Google Analytics to the Google Data Studio and build your custom reports and dashboards in Data Studio. See an example of live (public) data below. You can even build public dashboards with Data Studio.
Ready dashboard and report templates from the Google Analytics solutions gallery
In order to save you from the effort to create your own custom application usage reports, we are sharing with you our ready dashboard and report templates. You can import these templates into your own Google Analytics account.
Dashboard template
---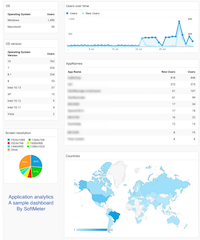 SoftMeter, application analytics dashboard
Application analytics dashboard showing key metrics of the distribution and usage of your software.
[Read more] [Import the dashboard]
---
Custom report templates
---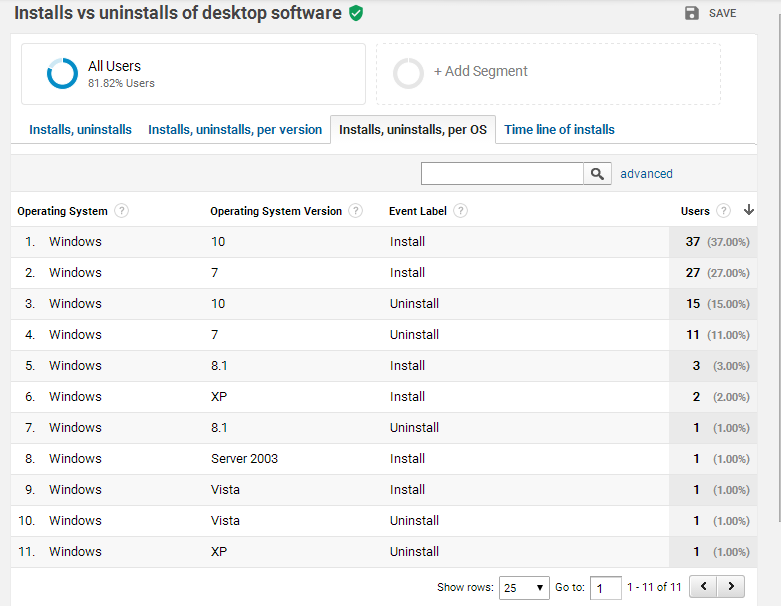 Installs vs uninstalls of desktop software
Report with multiple tabs showing installs and uninstalls of your software, installs per OS version, installs per application version.
[Read more] [Import the report]
---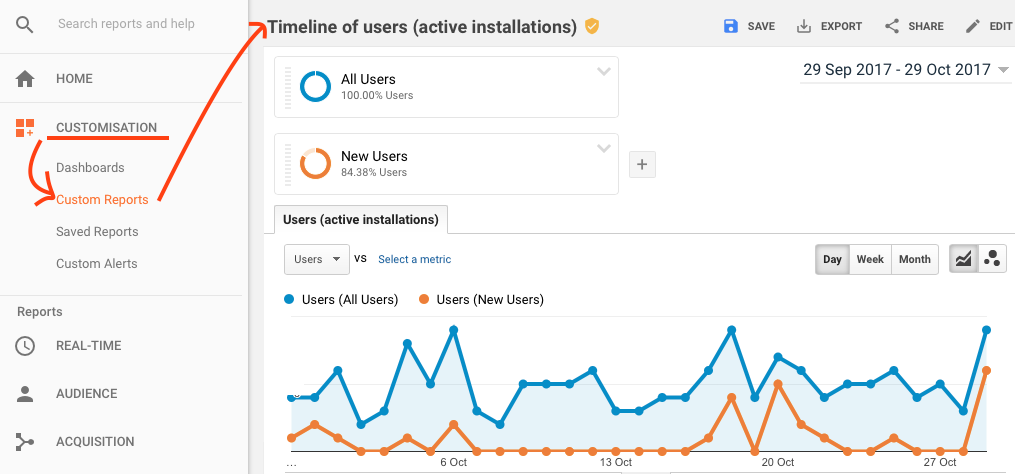 Timeline of users (active installations)
Shows a timeline with the active users and the new users. New users are new installations of your software.
[Read more] [Import the report]
---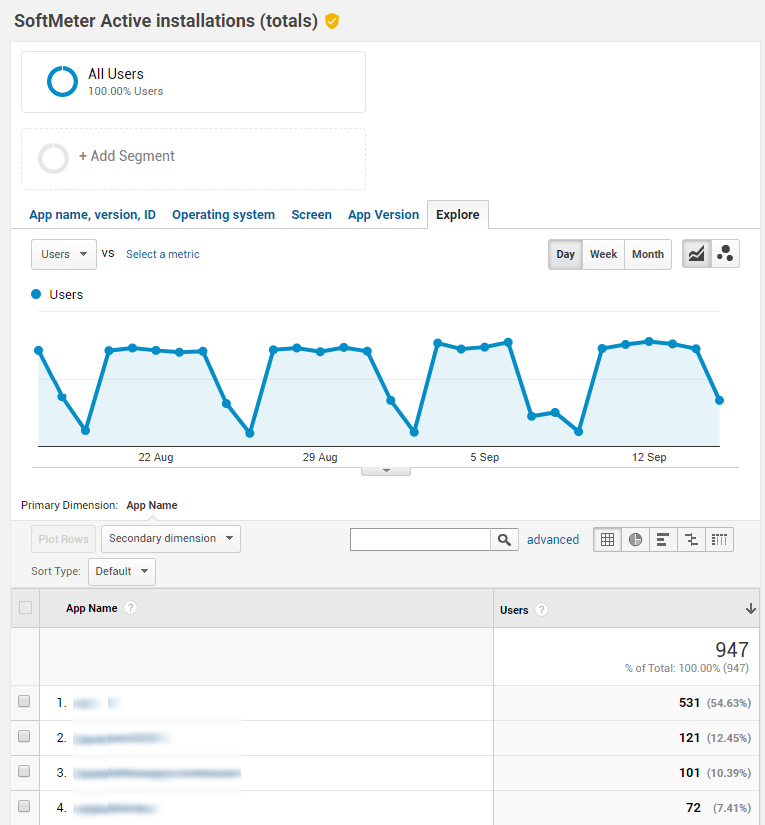 Active installations of your software (totals)
Shows the total active installation for your software application for a period of time.
[Read more] [Import the report]
---
SoftMeter usage: daily number of end-users
This report is generated by Google Data studio.