Moon Phases Calendar March 2023
Primary tabs
1
Wednesday, March 1st, 2023

Waxing Gibbous
2
Thursday, March 2nd, 2023

Waxing Gibbous
3
Friday, March 3rd, 2023

Waxing Gibbous
4
Saturday, March 4th, 2023

Waxing Gibbous
5
Sunday, March 5th, 2023

Waxing Gibbous
6
Monday, March 6th, 2023

Waxing Gibbous
7
Tuesday, March 7th, 2023

Full Moon
8
Wednesday, March 8th, 2023

Waning Gibbous
9
Thursday, March 9th, 2023

Waning Gibbous
10
Friday, March 10th, 2023

Waning Gibbous
11
Saturday, March 11th, 2023

Waning Gibbous
12
Sunday, March 12th, 2023

Waning Gibbous
13
Monday, March 13th, 2023

Waning Gibbous
14
Tuesday, March 14th, 2023

Last Quarter
15
Wednesday, March 15th, 2023

Last Quarter
16
Thursday, March 16th, 2023

Waning Cresent
17
Friday, March 17th, 2023

Waning Cresent
18
Saturday, March 18th, 2023

Waning Cresent
19
Sunday, March 19th, 2023

Waning Cresent
20
Monday, March 20th, 2023

Waning Cresent
21
Tuesday, March 21st, 2023

Waning Cresent
22
Wednesday, March 22nd, 2023

New Moon
23
Thursday, March 23rd, 2023

Waxing Cresent
24
Friday, March 24th, 2023

Waxing Cresent
25
Saturday, March 25th, 2023

Waxing Cresent
26
Sunday, March 26th, 2023

Waxing Cresent
27
Monday, March 27th, 2023

Waxing Cresent
28
Tuesday, March 28th, 2023

Waxing Cresent
29
Wednesday, March 29th, 2023

First Quarter
30
Thursday, March 30th, 2023

Waxing Gibbous
31
Friday, March 31st, 2023

Waxing Gibbous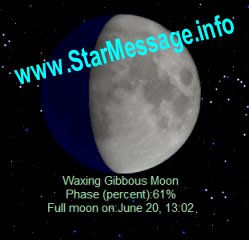 Moon phases software screen saver.
If you are interested in the phases of the moon or you like night sky screensavers, download the StarMessage screensaver for Microsoft Windows and Apple MacOS (including Mojave and Catalina).
The screensaver displays the moon in its current moon phase, reminds you about the upcoming full moon dates, shows you the names of the full moon, and does much more.
Diagram explaining the moon phases
This diagram shows the relative positions of the Sun, the Moon and earth and explains how the different moon phases appear.
The visible part of the moon is the part of the moon's surface that gets hit by the sunlight. The rest of the moon disc is almost invisible.
The moon phases are not caused by the shadow of the earth on to the moon. It is the moon's own shadow at the part of its surface that is not hit by the sunlight.
In other words, the visible "sunny" part is made of the places where there is "day" on the moon and the shadow part is where there is "night".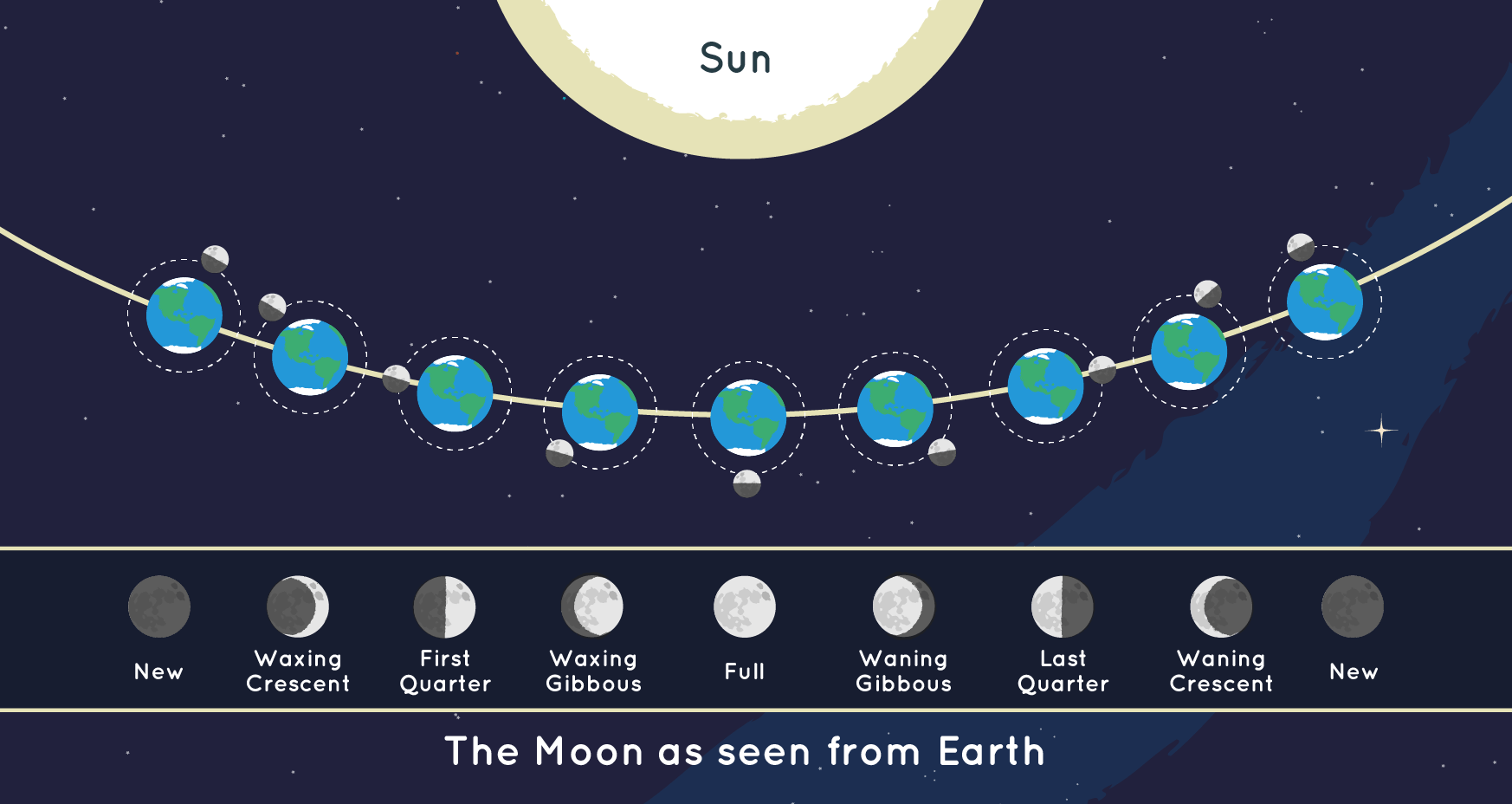 Credit: NASA/JPL-Caltech.
Interactive moon phases tool
Ready to explore other moon phases? This tool shows the current moon phase and allows you to shift the phases and see how the moon is illuminated at each phase.
Credit: NASA