Moon Phases Calendar October 2020
Primary tabs
1
Thursday, October 1st, 2020

Full Moon
2
Friday, October 2nd, 2020

Full Moon
3
Saturday, October 3rd, 2020

Waning Gibbous
4
Sunday, October 4th, 2020

Waning Gibbous
5
Monday, October 5th, 2020

Waning Gibbous
6
Tuesday, October 6th, 2020

Waning Gibbous
7
Wednesday, October 7th, 2020

Waning Gibbous
8
Thursday, October 8th, 2020

Waning Gibbous
9
Friday, October 9th, 2020

Last Quarter
10
Saturday, October 10th, 2020

Last Quarter
11
Sunday, October 11th, 2020

Waning Cresent
12
Monday, October 12th, 2020

Waning Cresent
13
Tuesday, October 13th, 2020

Waning Cresent
14
Wednesday, October 14th, 2020

Waning Cresent
15
Thursday, October 15th, 2020

Waning Cresent
16
Friday, October 16th, 2020

New Moon
17
Saturday, October 17th, 2020

New Moon
18
Sunday, October 18th, 2020

Waxing Cresent
19
Monday, October 19th, 2020

Waxing Cresent
20
Tuesday, October 20th, 2020

Waxing Cresent
21
Wednesday, October 21st, 2020

Waxing Cresent
22
Thursday, October 22nd, 2020

Waxing Cresent
23
Friday, October 23rd, 2020

Waxing Cresent
24
Saturday, October 24th, 2020

First Quarter
25
Sunday, October 25th, 2020

Waxing Gibbous
26
Monday, October 26th, 2020

Waxing Gibbous
27
Tuesday, October 27th, 2020

Waxing Gibbous
28
Wednesday, October 28th, 2020

Waxing Gibbous
29
Thursday, October 29th, 2020

Waxing Gibbous
30
Friday, October 30th, 2020

Waxing Gibbous
31
Saturday, October 31st, 2020

Full Moon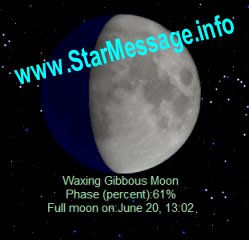 Moon phases software screen saver.
If you are interested in the phases of the moon or you like night sky screensavers, download the StarMessage screensaver for Microsoft Windows and Apple MacOS (including Mojave and Catalina).
The screensaver displays the moon in its current moon phase, reminds you about the upcoming full moon dates, shows you the names of the full moon, and does much more.