How to make the screensaver play a cuckoo sound like a cuckoo clock?
StarMessage is a Windows and MacOS screensaver showing the current moon phase, allowing to write messages in the stars of the night sky and has much more features.
StarMessage can also work as a cuckoo clock screensaver. You can select one of the calming sounds and/or enable the cuckoo to sound every hour.
Depending on your computer (PC or Mac), download the matching free edition of StarMessage screensaver, go to the screensaver settings, then to the sounds tab of the screensaver configuration screen, and select the "cuckoo on the hour".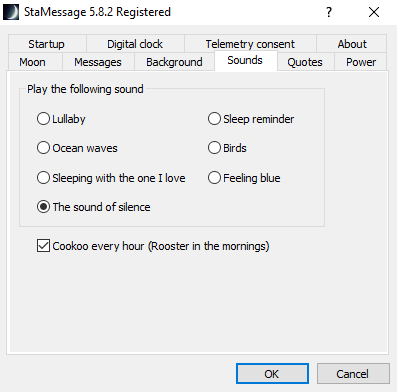 Windows cuckoo clock screensaver settings

MacOS cuckoo clock screensaver settings
Every hour the screensaver will play a cuckoo sound like you had an original wooden cuckoo clock on the wall.
At 7am, 8am, and 9am, instead of a cuckoo sound you will hear a rooster sound trying to wake you up.